Mountain biking enthusiasts flock to Colorado for its breathtaking scenery and challenging trails. With its rugged terrain and diverse landscapes, Colorado offers a plethora of adrenaline-pumping rides for riders of all skill levels. Whether you're a beginner looking for a thrilling adventure or an expert seeking an intense challenge, these top mountain biking trails in Colorado will leave you exhilarated and wanting more.
Top Mountain Biking Trails in Colorado: Unleashing Adrenaline
Colorado is home to some of the most renowned mountain biking trails in the world, attracting riders from every corner of the globe. One of the top trails in the state is the famous Colorado Trail. Stretching over 500 miles from Denver to Durango, this trail offers a mix of technical climbs, thrilling descents, and stunning alpine scenery. Riders can expect challenging sections that will test their skills and stamina, making it a must-ride for experienced bikers.
Another trail that should be on every mountain biker's bucket list is the Monarch Crest Trail. Located in the heart of the Rocky Mountains, this trail offers an unmatched combination of high-altitude riding and jaw-dropping views. The trail is known for its fast and flowy descents, rocky sections, and high-altitude climbs, providing an adrenaline rush like no other. Be prepared for an epic adventure that will push your limits and reward you with an unforgettable experience.
Must-Experience Rides: Thrilling Mountain Biking Trails in Colorado
For those seeking a thrilling ride, the Valmont Bike Park in Boulder is a must-visit destination. Designed for riders of all levels, this park features a variety of jump lines, pump tracks, and technical features that will keep your heart racing. With its progressive layout and well-maintained trails, riders can push their limits and improve their skills in a controlled and exhilarating environment.
If you're looking for a true mountain biking challenge, head to the iconic 401 Trail in Crested Butte. Known as one of the most beautiful trails in Colorado, the 401 Trail offers a combination of technical climbs, exhilarating descents, and breathtaking wildflower meadows. The trail is famous for its steep and rocky sections, making it a favorite among experienced riders seeking an adrenaline-fueled adventure.
Exploring Colorado's Exhilarating Mountain Biking Trails
Apart from the well-known trails, Colorado also hides hidden gems that offer an adrenaline rush to those willing to explore. One such gem is the Hermosa Creek Trail near Durango. This trail winds through lush forests, along cascading waterfalls, and across challenging creek crossings. With its mix of technical sections and fast descents, the Hermosa Creek Trail is a thrilling ride that showcases Colorado's natural beauty.
For riders seeking an all-day adventure, the Kenosha Pass to Georgia Pass loop near Breckenridge is a must-try. This epic 30-mile loop takes you through diverse terrain, including meadows, dense forests, and above-treeline alpine tundra. The trail features challenging climbs and thrilling descents, offering a truly exhilarating experience for experienced riders.
If you're in the mood for some high-speed downhill action, head to the Keystone Bike Park. With over 55 trails and 3,000 feet of vertical descent, this park has something for riders of all skill levels. From technical rock gardens to smooth berms and jumps, the Keystone Bike Park is a haven for adrenaline junkies looking for an intense mountain biking experience.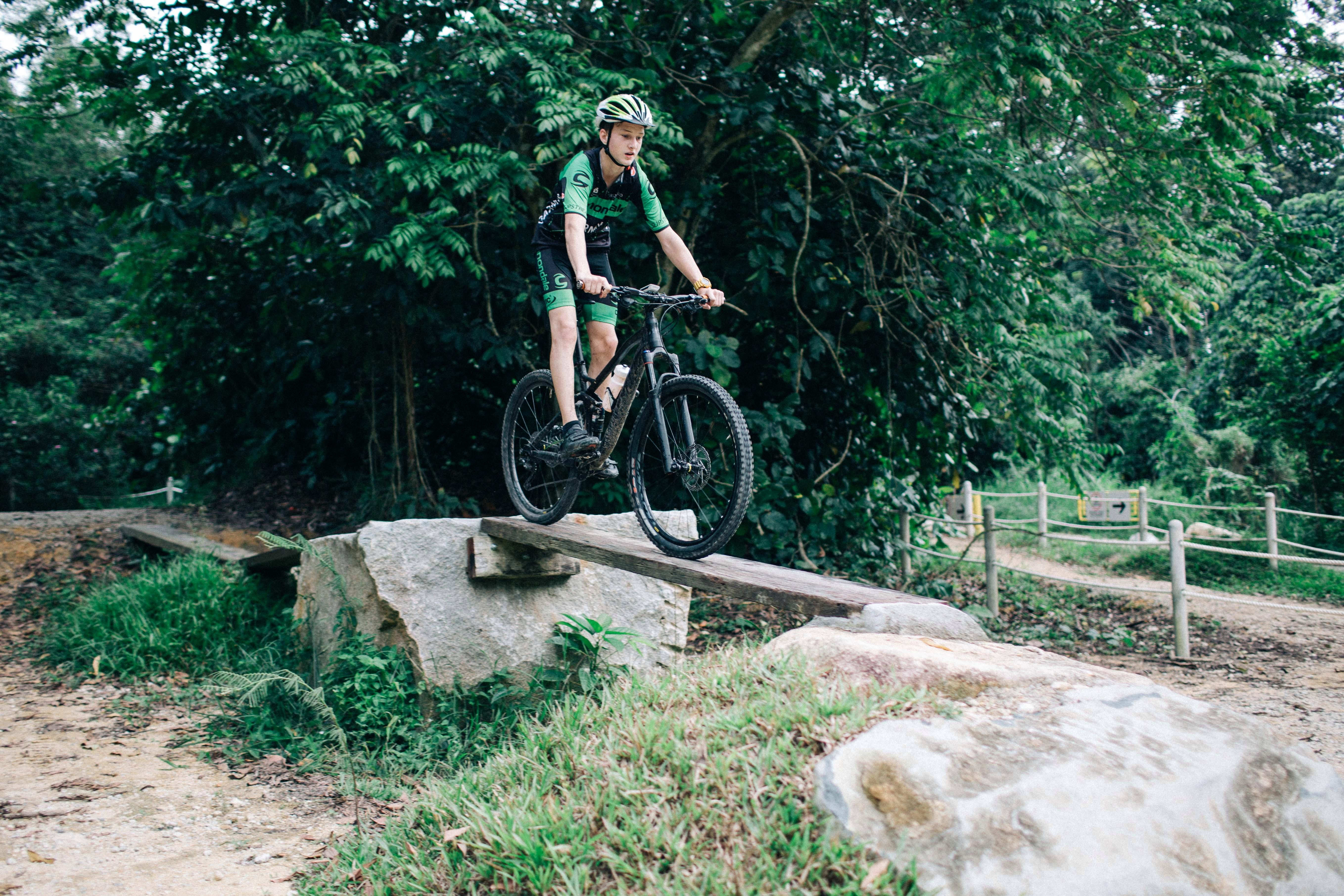 Shop Now Colorado Mountain Bike Trail Guide Colorado has a long history as an epicenter of mountain biking awesomeness with amazing Rides spread out through the entire state The mountain biking in Colorado offers a great mix of technical trails high alpine epics and some of the best downhill mountain bike parks around9 Marshall Mesa Doudy Draw Loops Boulder Marshall Mesa Doudy Draw Loop Bike Trail via mtbproject Where See map Distance 103mile loops Highlights If you want a great bike ride 1 Crested Butte 2 Breckenridge 3 Colorado Springs 4 Snowmass 5 Aspen 6 Monarch Crest Trail Honorable Mentions My Advice for Planning Your Colorado Mountain Biking Trip Cleaved in two by the Rocky Mountains Colorado offers fantastic ride diversityHours of Operation 10am5pm Snowmass Bike Park Dates Open
Daily June 21Sept 4 Weekends FriSun Sept 810 1517 2224 29Oct 1 Close Oct 2 Trail Map Pause1 The Colorado Trail Waterton Canyon or Silverton to Durango Colorado Trail biking in Waterton Canyon Photo reidneureiter This multiuse trail is very famous with hikers and use by bikers too Its total length is nearly 500 miles of challenging alpine terrain from start to finishFeeling like a million bucks is easy on Eagles worldclass mountain bike trails Our trail system is unique with over 100 miles of singletrack mountain biking Built with all levels of riders in mind your journey will take you over a variety of winding singletrack through high desert aspen groves and dense fragrant evergreen forestsNo matter your favorite way to play on two wheels whether its mountain biking trail biking road
biking bike tours or anything in between were one of the fastest growing bikefriendly towns in the US Steamboat Springs has bike trails and Rides for every ability level Wed like to introduce you to a new side of us welcome to Bike Town USABoulder County Ride Progression Guide Whether you are a beginner new to the area or are just looking for a challenge heres BMAs very subjective guide to riding Boulders classic mountain bike routes Weve ranked them from easiest green to hardest doubleblack with links to Trailforks so you can see location distance and
With its breathtaking scenery and challenging trails, Colorado is a mountain biking paradise that will leave riders craving more adrenaline. Whether you choose to tackle the legendary Colorado Trail, explore hidden gems like the Hermosa Creek Trail, or experience the high-speed thrills of the Keystone Bike Park, Colorado's mountain biking trails offer an exhilarating adventure for riders of all levels. So, strap on your helmet, hop on your bike, and get ready to unleash your inner daredevil on these adrenaline-pumping rides in the stunning landscapes of Colorado.